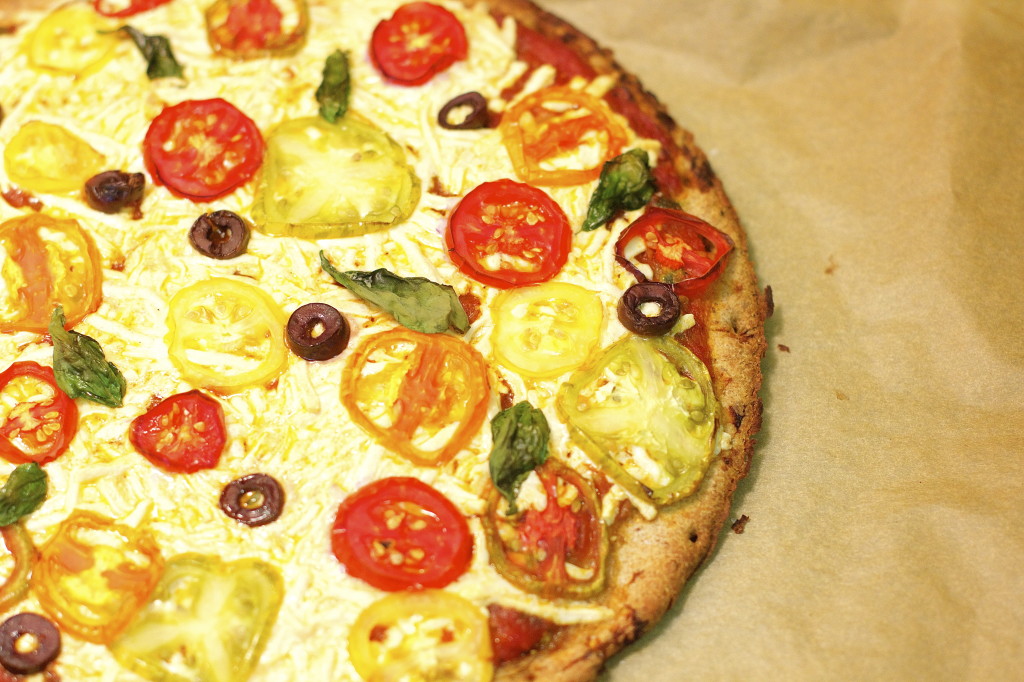 It took me more time to take the pictures than to actually prepare this beautiful Pizza, which was about 5 minutes. There, I said it! You can call The Martha Stewart Police on me… guilty as charged… If I can make a Vegan Wholesome Pizza that is healthier than a frozen Pizza and quicker than a Vegan Delivery Pizza than I'm choosing the easy-healthier-quick one. I wish someone will see the potential and open a Vegan Pizzeria close to me already! :). Some super moms, somewhere, are probably making the whole thing from scratch. Not me, I love time saving short cuts that lets me keep the good quality ingredients without compromising on taste, especially on days where I don't have the time to do rocket-science recipes.
There are a few things to keep in mind / have in advance:
1. I try to keep a good quality tomato sauce handy for quick recipes like this one.
2. I used the Fresh Pesto Sauce from a day before, but even if you choose to make it the same day, it's super quick to make as well (you can use a store-bought vegan pesto if you'd like).
3. For the crust, I found this organic great whole grain ready-made crust. If you can't find it where you live, use any crust you like or even make it on an Indian Naan bread or pita bread (make sure to check the ingredients since some of them are made with dairy).
4. I also keep shredded mozzarella Daiya cheese which is the invention of the century for vegans… but there are other kinds of vegan cheese that you could use (Trader Joe's has one that really melts good).
Ingredients
One 12″ Pizza Crust (I used Rustic Crust Organic Great Grains)

Tomato sauce (Marinara or basic Pizza sauce)
5 Tbsp Pesto sauce
1 Cup Shredded Mozzarella style Vegan Cheese (I used Daiya)
a bunch of heirloom tomatoes, thinly sliced
a few Sliced olives and fresh basil leaves for topping
Preparation
Pre-heat oven to 425°
Spread a layer of the pesto sauce on the crust first, spread the tomato sauce over it than sprinkle with the shredded "cheese".
Add the sliced tomatoes, olives and decorate with basil leaves.
If you want to get fancy, add some crushed pistachios mixed with nutritional yeast for a "parmesan- ish" twist.
Bake for 8-12 minutes. Cool for 3 min. before cutting into slices and serve.
Reading the ingredients list on the Pizza crust, happy I found it!