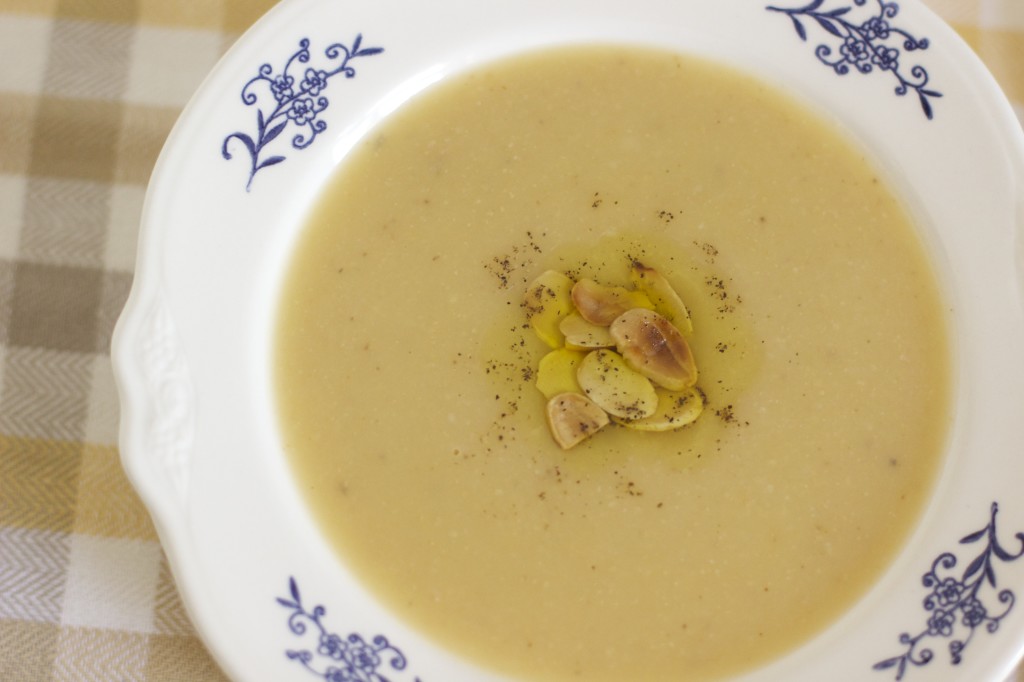 It's finally snowing in New York and its a perfect day for homemade hot creamy soup (without any creams of course …)
A little "twist" to the typical 'Potato Leeks Soup' here, is simply the addition of cauliflower. Oven roasted cauliflower to be precise.  Roasting the cauliflower on high heat concentrates the flavor and that steps it up from good to awesome as in Awe-Some-More Please!!
Ingredients
3 Medium Potatoes, peeled and roughly chopped
1 Head of Cauliflower (Cut into florets)
1 Large Leek, finely chopped (use only the white and light green parts)
3-4 Cloves Garlic, Minced
1 Quart Vegetable Broth
2 Cups Water
Olive Oil
1 Tbsp. Adobo or (Spice mixture that contains: Sea salt, garlic, onion, black pepper, oregano, bay and turmeric)
Salt and Black Pepper to taste
Roasted Sliced Almonds (optional)
Preparation
Preheat oven to 450°
Spread the cauliflower florets on to a baking sheet, drizzle olive oil and sprinkle with sea salt.
Roast for about 25-30 minutes, tossing half way if needed until golden brown at the edges, check every few minutes to make sure it doesn't burn.
In a large pot, sauté leeks and garlic in little olive oil, add the roasted cauliflower, potatoes, vegetable broth, water and spices until the vegetables are covered in liquid. bring to a boil and let it simmer for 30-40 minutes or until the potatoes are soft.
Use a hand blender to blend until silky smooth, add water if its too thick.
Taste and adjust spices if needed.
To serve: sprinkle black pepper and roasted sliced almonds.