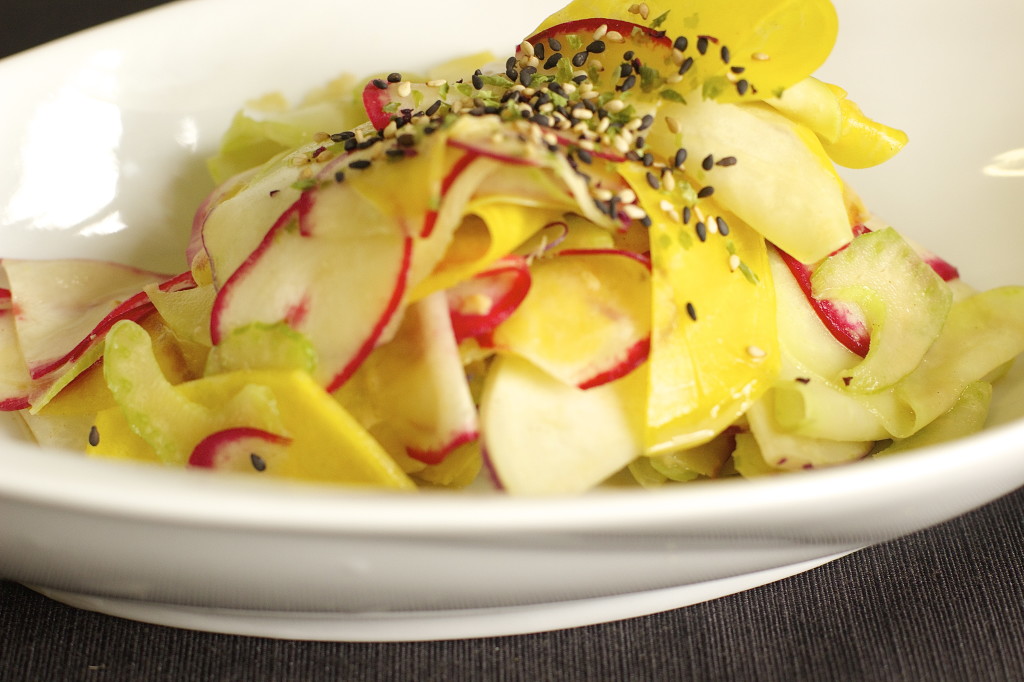 I used to see kohlrabi only as a cooked vegetable in soups but since I learned about the benefits of raw food, I've been experimenting with the idea and discovering that almost everything is better raw. A great way to introduce raw hard vegetables is to cut them like noodles or slice them "paper thin". To slice them super thin I used  a Japanese mandolin. Please be careful if you're going to use one! It's easy to forget that your fingers are at the end of it and cut yourself. It wouldn't be such a vegan salad if there is blood in it ha?! 😉
Colorful and fresh, this salad could complement any asian style meal and it's also fun to eat it by itself with chopsticks.

Ingredients
1  Purple Kohlrabi
1 Green Kohlrabi
1 Golden Yellow Beet
3-4 Radishes
3 Celery stems
Asian Dressing
1 Tbsp Soy sauce
1 Tbsp Tahini
1/2 Lemon juice
1 tsp Ginger  minsed super fine
1/4 Cup filtered water
1 tsp Maple Syrup
Black sesame seeds (I had the mixture with herbs)
Preparation
Slice the vegetables with a mandolin.
Whisk all dressing ingredients and pour over the salad, sprinkle with sesame seeds and…Done!