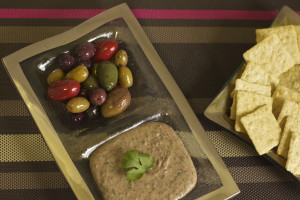 A quick and easy dip that is ready in minutes. If you like, you can soak the black beans overnight and then cook them. But if you prefer the easy way out, like me :-), you can use canned beans just make sure they're BPA free like Eden Organics, or even better, I found Tetra Pak® carton packages and you don't even need a can opener!
Ingredients
1 Package Black Beans (about 14 oz, cooked)
1 cup Fresh Cilantro, chopped
1 Jalepeno Pepper
Juice of ½ Lime
1 Tbsp Tahini
½ tsp salt
¼ tsp Cumin
¹⁄8 tsp Smoked Paprika (smoked is optional but it really makes a difference in taste)
1 tsp Olive Oil
Preparation
Place all ingredients into food processor until smooth paste.
Spread it on sandwiches or enjoy as a dip with crackers or chips.