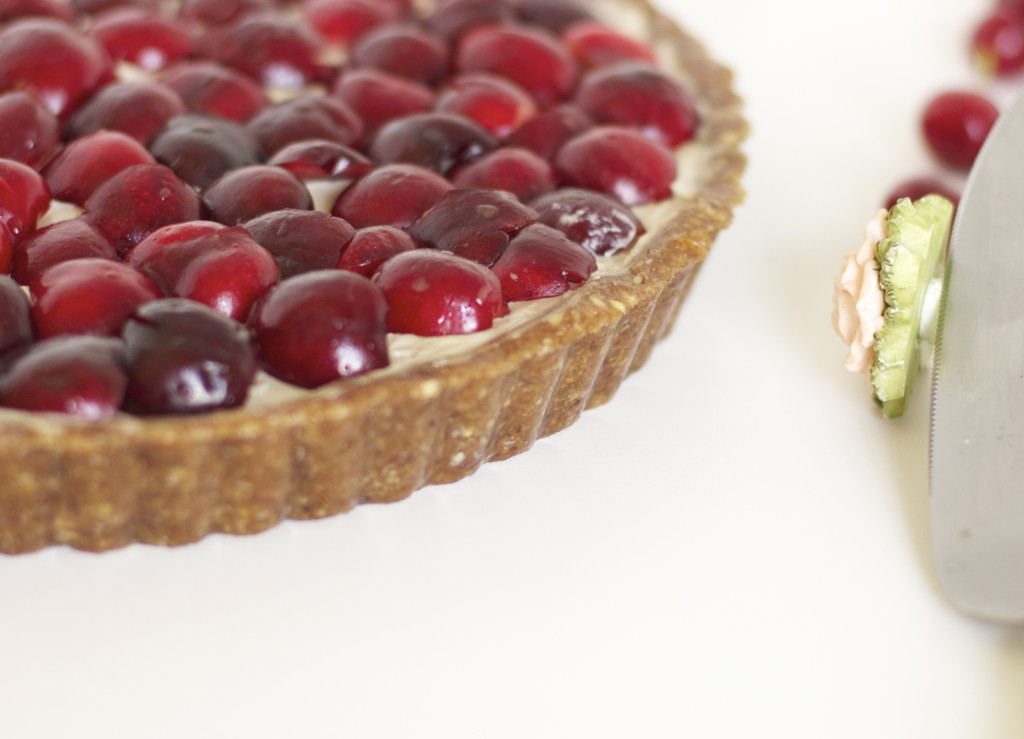 Who doesn't love cherries?!  They're so beautiful and flavorful. They are rich in vitamin C and are considered a super-fruit. Their season is short so I knew I had to do something quick with the bag of sweet cherries I got. The first thing I thought about is the color. That's the real "food coloring" of nature, without the chemicals!  Mixing the cherries with the coconut cream makes a pretty purple, then topping the pie with fresh cherries over the white cashew cream and I got two colors for the price of one…  There is no baking here, just a lot of blending and cherry pitting.
For the look of clean lines of the pie layers, you can put it in the freezer for a few minutes between each layer of cream to allow it to set and prevent the layers from mixing. This decadent pie is so rich and full of nutrients, it is hard to eat more than one piece, which makes it almost a guilt-free dessert 🙂
Before you start, remember to soak the cashew in filtered water for at least 4 hours (preferably in the fridge).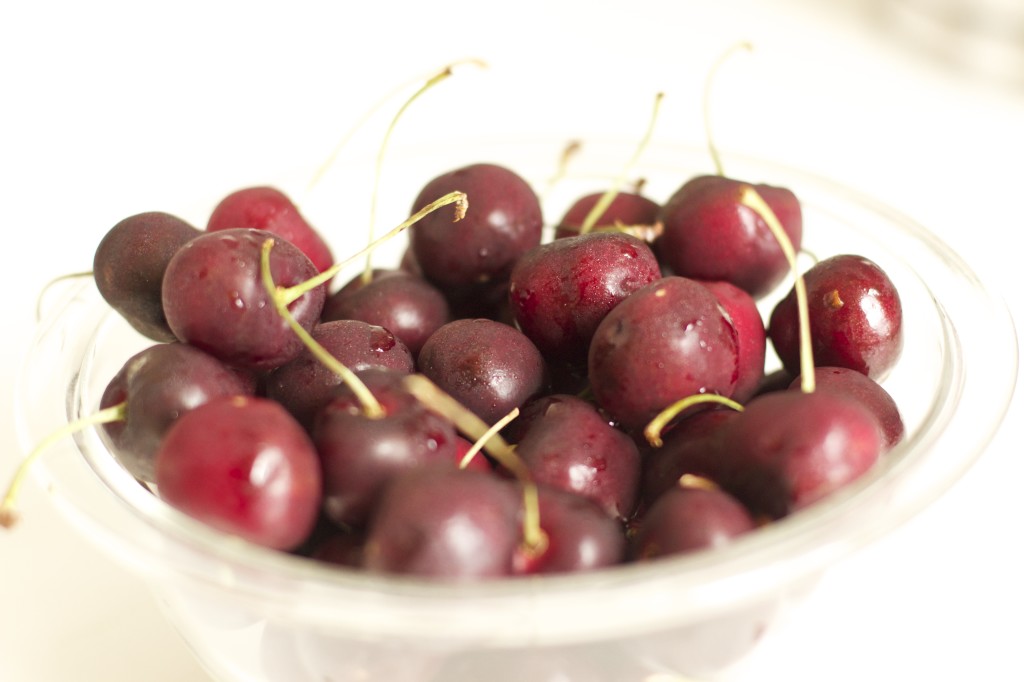 Ingredients
Crust:
1½ Cup Walnuts
1 Cup Pecans (I used small American Native Pecans)
2 Tbsp Water (more if needed)
1½ Cups Pitted Medjool Dates
½ Cup Shredded Coconut
1½ tsp Coconut Oil
½ tsp Cinnamon
Pinch of Salt
Cashew Cream:
2 Cups Soaked Raw Organic Cashews
½ Cup Maple Syrup
1 Tbsp Coconut Oil
1 Tbsp Lemon Juice
1 tsp Vanilla Extract
Pinch of Salt
Cherry Coconut Cream:
2 Cups Pitted Cherries
½ Cup Coconut Cream (Cream = Not the coconut milk)
½ Cup Coconut "Meat"
1 Tbsp Maple Syrup
1 tsp Vanilla Extract
Preparation
Crust:
Put all ingredients for the crust into a food processor and blend until smooth.
Note that sometimes the dates are a bit dry and need more water to help bind it all together. Add water only if needed.
Press the mixture into the bottom and up the sides of a pie pan. You will need to do some patch work to spread evenly.
Place the crust in the fridge to set and harden.
Cashew Cream:
Soak the cashews for a minimum of four hours. Wash and drain.
Blend all ingredients in a high speed blender (A good high-speed blender is important, you want the cashew cream to be super smooth with no pieces)
Place cream over the crust and put in the freezer to set.
Cherry Coconut Cream:
Blend all ingredients until smooth.
Add this layer of cream onto the pie and freeze to set.
Finally, top the pie with a layer of cherry halves and serve.
* You can freeze the pie. If you do, don't forget to thaw it ten minutes before serving.