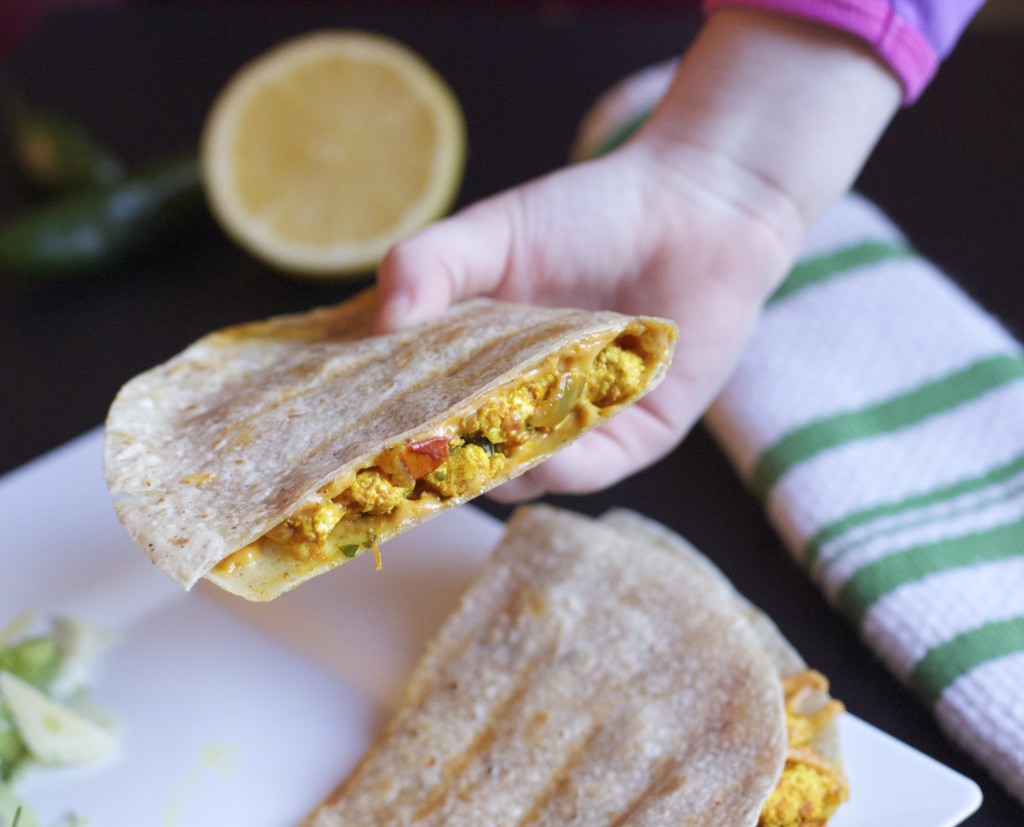 They say that when you make food, you have to make it with love. Otherwise, it will not be tasty. This is probably the reason why mom's food is the best… it's because she makes it with love! One place I felt the Love in the food, was a restaurant in Las Vegas called: Pura Vida. A Vegan Latin Bistro and the lovely Owner-Chef Myra is so warm and inviting, you can feel her love and care in the food! If you are in the Sin City area… I defintely recommend it. (and say Hi to chef Myra!)
Dining there, inspired me to make this recipe. Full of flavors, it tastes like Vegas to me… I made the Shakshuka filling (which is a north african dish of poached eggs in tomato chili sauce) to go with the traditional latin Quesadilla and replaced the eggs with the scramble tofu Oh So Yummy… you will not be able to stop!  Just don't forget to add ♥LOVE ♥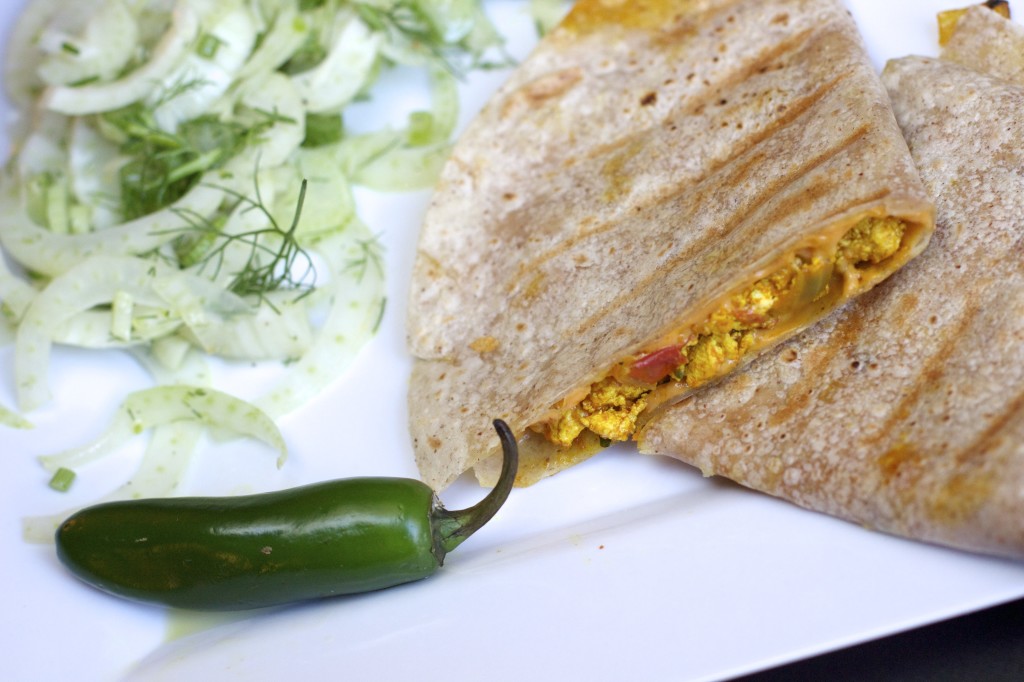 Ingredients
4-6 Tortilla Wraps (I like Brown Rice wraps and it also makes it a gluten free recipe).
1 Package Tofu (about 14 oz)
2 Ripe Roma Tomatoes
1 Medium Onion
2 Jalapeño Peppers
2 Small Colorful Bell Peppers
½ Cup Tomato Sauce (You can use store bought pasta or pizza sauce)
½ Cup Shredded Vegan Daiya Cheese
3 Tbsp Olive Oil
Handful Chopped Parsley
1 tsp Adobo Spice Mix (or any spice mix you like)
1 tsp Turmeric
1 tsp Red Paprika
1 tsp Ground Coriander
Salt and Pepper to taste
Preparation
1. Chop the vegetables.
2. Sauté the onions in the olive oil. Gradually add the peppers, jalepenos, diced tomatoes and tomato sauce to the pan and stir for a few minutes.
3. Crumble the tofu with your hands and add to the pan.
4. Add all the spices, stir until the tofu gets a nice yellow color.
5. Add the parsley and the Daiya cheese.
6. Transfer onto a wrap and fold in half. Place into a panini maker/toaster until the cheese melts and it all comes together.
Serve with fresh salad and enjoy!