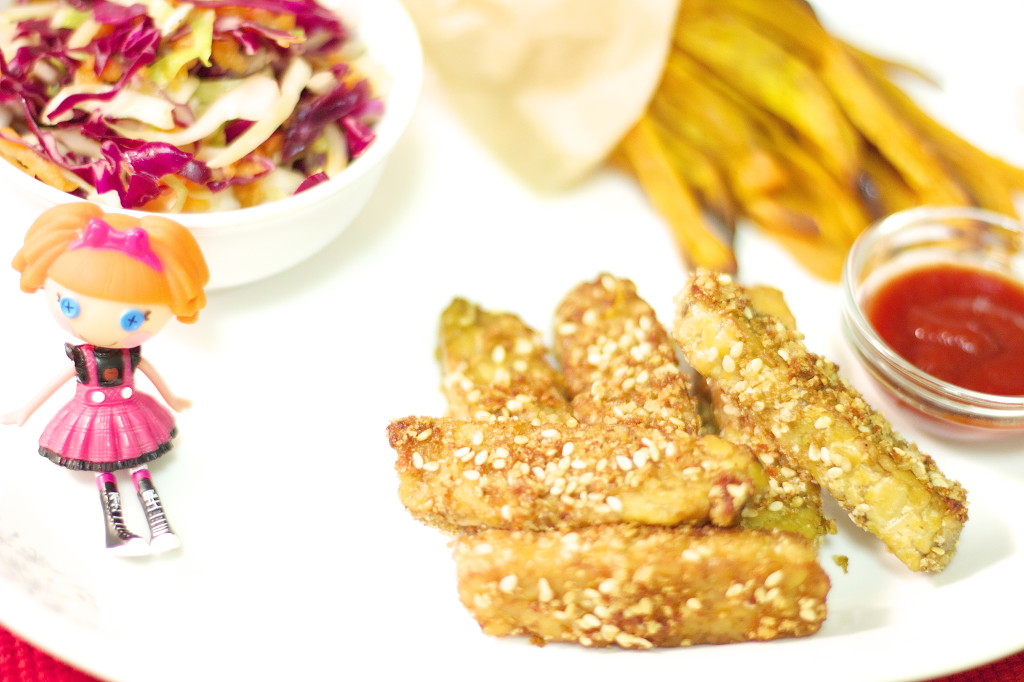 One of the challenges I had with cooking vegan food for kids was competing with "classic" kids- menu food like chicken nuggets, Mac n cheese and such. Why is there a kids menu anyway? I'll get to that in a later post…  But really, when it comes to kids I think it  all depends on the presentation and the consistency of the parent. I would like the food I feed my daughter to be tasty but still healthier and more wholesome than the junk food that surrounds us everywhere. This recipe is my answer to this challenge. Finger food like tempeh nuggets and sweet potato fries served with a coleslaw salad make a kids-friendly happy meal that you'll be happy to serve your family, and I even have the toy prize. 🙂
These vegan strips are made out of Tempeh. Tempeh is a soy product made from cooked and slightly fermented soybeans. It is a good source of protein and calcium with a nutty flavor. I have tried three types of tempeh: Three grain, Soy, and Flax. My favorite is the three grain type. Some people find the taste of tempeh a bit bitter. The solution to that is to boil it first but I did not try it yet because my family and friends like it just like that. I served it with fiber-rich sweet potato fries, a tricolor coleslaw salad, and organic ketchup. In your face McDonalds!
*Serves about 4 hungry kids
Vegan Nugget Strips
Ingredients
2 Packages Tempeh
For the Marinade:
½ Cup Soy Sauce
1 tsp Mustard
1 Tbsp Water
1 tsp Ground Flaxseed Meal
For the Breading:
1 Cup Bread Crumbs (I prefer the Panko breadcrumbs)
½ Cup Sesame Seeds
1/4 Cup  Corn Flour
1 tsp Adobo Seasoning (or any spice mixture you like)
½ tsp Salt
Oil for frying
Preparation
Cut tempeh into half inch strips.
In a shallow bowl mix  in the marinade ingredients.
Dip the tempeh strips into the liquid mixture so it is fully submerged . The flax seeds helps the  tempeh stick to the breading.
In another shallow bowl mix bread crumbs, sesame seeds, flour and salt.
Transfer the tempeh into the breading mixture and fully coat.
Lightly fry on both sides until golden brown.
Tricolor Coleslaw Salad
Ingredients
½ Purple Cabbage Shredded
½ White Cabbage Shredded
2 Carrots Shredded
Juice from ½ Lemon
1½ Tbsp Sunflower Oil
Drizzle of Toasted Sesame Oil
Sea Salt to taste
Preparation
In a big bowl mix all ingredients together.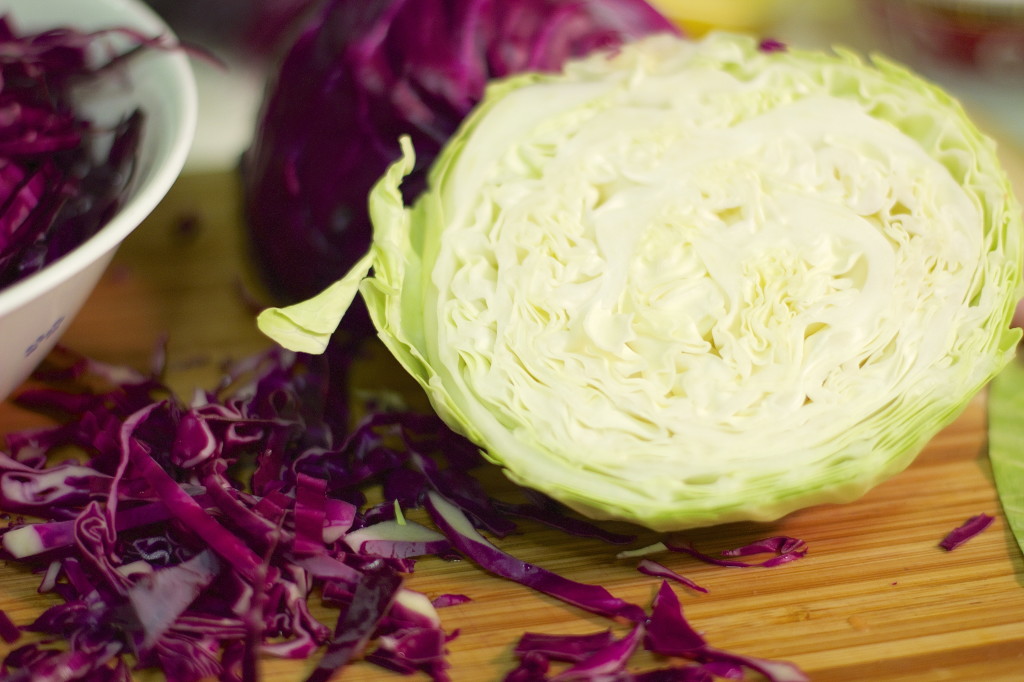 Sweet Potato Fries
Ingredients
4-5 Sweet Potato
Oil for tossing
Sea Salt
Preparation
Preheat oven to 450º.
Peel and slice the sweet potatoes.
In a large bowl toss sweet potatoes with oil and sea salt to taste.
Line a cookie sheet with parchment paper.
Spread out sweet potato in one layer so it will get crispy.
Bake until golden brown and crispy. If needed turn the fries halfway through baking.
Enjoy and be happy!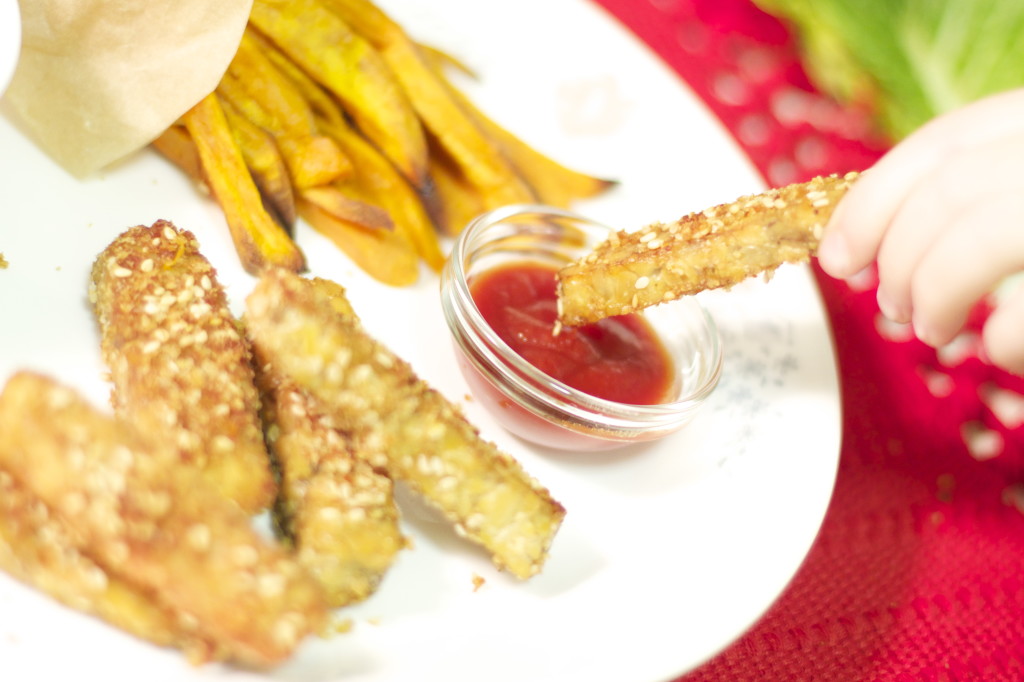 And here is an interesting video to watch about: Tricks to Get Kids to Eat Healthier at Home