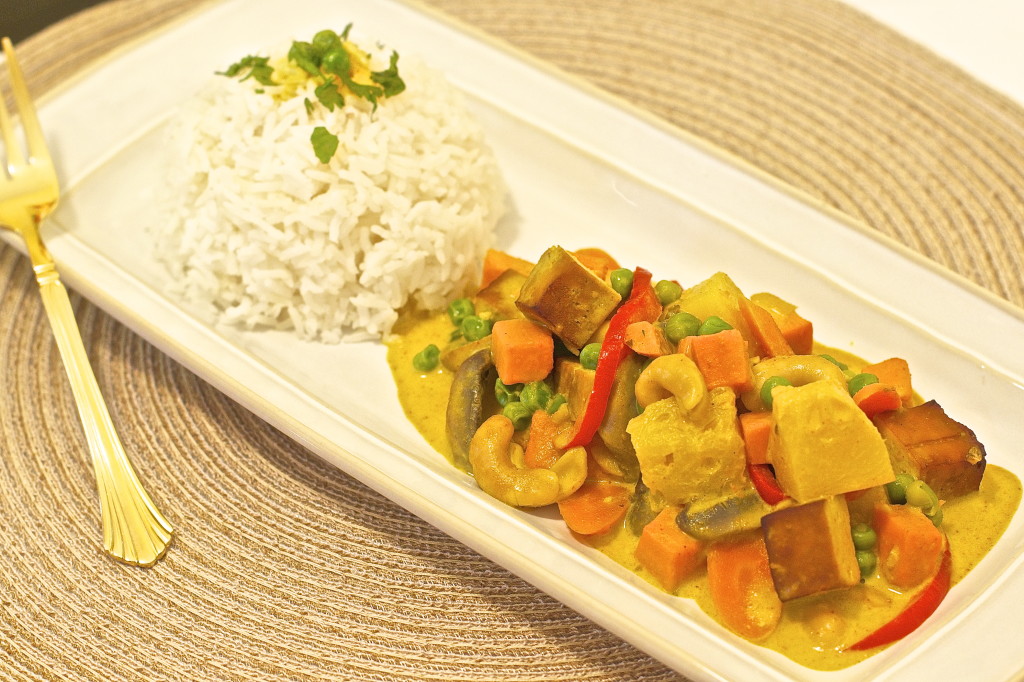 A few years ago, I traveled to Asia. One of the exotic places I was lucky to be in was Thailand. Picture beautiful beaches, white sand, turquoise water, friendly people and great food. Life was so easy back then… drinking coconut water straight from its shell, so many tropical fruits right from the tree, fun in the sun and no responsibilities. That was a long time ago. Lots of coconuts fell off the trees and lots of pineapples were cut-open since my days of freedom in the sun 🙂 Good thing, I can always go back there in my mind with the help of  memories and Thai food.
I once heard that the "secret" of Thai cuisine is in its right balance of flavors: savory and sweet, spicy and sour all together in harmony. This dish, I think, has it all: Beautiful colors, flavors and textures. The peanut curry sauce here is a sauce that can upgrade any vegetable stir fry dish, as long as you have peanut butter, coconut milk and spices at home. Usually I like to add Thai curry paste to give it a spicy kick. Feel free to add it if you like the "heat", but even without it, this sauce will get you hooked!. The main work here is really just to chop the vegetables.
If you're not going to use the Thai curry paste, you could use just the curry powder (I like both). Traditionally curry blend is made from "the five C's": Chili, Coriander, Cumin, Cinnamon, and Cardamom. I like to make my own from Coriander, Turmeric, Cumin, Cinnamon, Mustard powder, Garlic powder and Hot Paprika.
Ingredients
1 Large Sweet Potato/Yam
1 Fresh Pineapple or 1 Can of Pineapple Chunks
1 Pack of Tofu
Handfull Cashews
1 Pack of Mushrooms
¾ Cup Chopped Carrots
1 Red Bell Pepper
1 Cup Green Peas
5 Cloves of Garlic
1 Cup Organic Vegetable Broth
3 Tbs Sunflower Oil
For the Sauce:
1 Can of Coconut Milk
1 Inch Ginger
2 Tbs Peanut Butter
Curry Powder or Thai curry paste
Cilantro or Thai Basil (if you can find it)
Coriander
Turmeric
Cumin
Salt
Preparation
Chop all the vegetables and dice the tofu and pineapple.
Mince the garlic and ginger.
Add the oil to a heated pan and start by sautéing the sweet potato.
Gradually add all the vegetables and tofu, starting with the hardest .
Let that cook on medium heat for about 20-25 minutes.
Add the vegetable broth slowly as needed so the vegetables will not get dry while cooking.
Add the pineapple and cashews towards the end.
Meanwhile, in a medium bowl make the curry sauce.
Combine the ginger,garlic with coconut milk, peanut butter, spices and salt.
Mix well until you have a thick yellow sauce.
Pour the curry sauce over the vegetables and let cook for a few more minutes on medium-low heat.
Serve with jasmine or basmati rice.
Garnish with Thai basil or cilantro and enjoy!