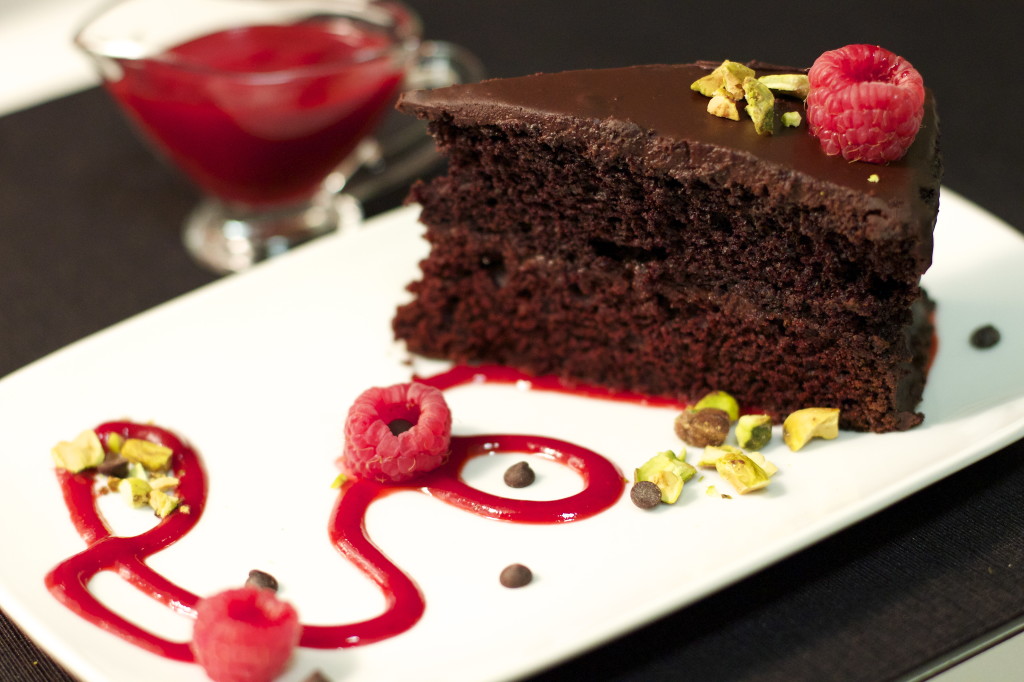 Just saying "chocolate cake" makes everyone smile 🙂 . Chocolate cake with raspberry sauce makes me smile even more. It was one of my pregnancy cravings… I was addicted to a chocolate soufflé with raspberry sauce from a Belgian restaurant in NYC and made my husband go with me or bring it home every chance I got… Sometimes at crazy hours. Well, you get a permit to harass your husband when you're hormonal 😉
According to a Parenting magazine, chocolate is the number 2 most craved food by pregnant women, right after ice!  It said "Chocolate — or any sweet for that matter — is something pregnant women can't get enough of. This could be because chocolate makes you happy, and since there's no drinking for pregnant women, chocolate is literally the next best thing. An old wives' tale states if you crave sweets it means you're carrying a girl". Can you believe it?! Pregnant or not, nobody says NO to a piece of this moist chocolaty gorgeous red raspberry goodness.
I wanted a taller cake so I actually made two cakes to assemble as two layers. It is perfect as a one layer cake too, so If you want you can skip the second cake and just make it without the jam/sauce in the middle.
Ingredients
For the Cake:
Makes One 9 -Inch Round Layer
Dry:
1 ½ Cup All Purpose Flour
1 Cup Sugar (I used Turbinado Cane Sugar)
1/3 Cup Cocoa Powder
1 tsp. Baking Soda
¼ tsp. Baking Powder
½ tsp Salt
Wet:
1 Cup Almond Milk (I used sweetened Vanilla Almond Milk)
½ Cup Oil (Canola Oil or Grape-seed oil)
1/8 Cup Apple Cider Vinegar
1 Tbsp. Vanilla Extract
Raspberry Sauce:
2 Cups Fresh Raspberries
2 ½ Tbsp. Water
¼ Cup Sugar
1 tsp. Lemon Juice
1/8 tsp. Salt
 For spreading between the  layers:
3 Tbsp. Raspberry Jam
Chocolate Ganache Frosting:
Dark Chocolate chunks (about 1 and 1/2 – 2 Cups)
1 Cup Almond Milk
4 Tbsp. Maple Syrup (or Sugar)
Garnish:
Fresh Raspberries
Handful roasted Pistachios
Preparation
Cake:
Preheat oven to 350°
Brush with oil a 9-inch round cake pan.
Whisk together wet ingredients in a bowl and set aside.
In another bowl sift together the flour and cocoa powder, add in the rest of the dry ingredients.
Combine the wet into the dry and mix until smooth.
Pour the batter into the cake pan and bake for 30-35 minutes. (check if it's ready, insert a tooth-pick it should come out dry)
Let the cake cool before adding the ganache and the raspberry sauce.
Raspberry Sauce:
Place all sauce ingredients In a medium saucepan, cook over medium heat for 10-15 minutes.
Place the sauce in a small food processor or a blender and blend until smooth. Press it through a small fine mesh strainer with a spoon to get rid of the seeds. Keep it in the fridge until you're ready to serve.
Mix 3 Tbsp. of the raspberry sauce with 3 Tbsp. of store bought Raspberry Jam to make it thicker. "Shave" the top of the bottom cake to make it more even. Flip the top layer cake upside down to get a flatter top and spread the raspberry sauce and jam mixture between the two layers of cake before covering with the ganache frosting.
Ganache Frosting:
In a saucepan, boil the almond milk, reduce to simmer, add the chocolate and maple, turn off the heat and stir well until the chocolate has melted.
Cool a bit, spread over the top and sides of the cake and place in the fridge to harden.
To Serve:
When you are ready to serve, cut the frosted cake, decorate every piece with a raspberry, pour some raspberry sauce on top, sprinkle with pistachios and start dieting tommorow…