For most of my life breakfast meant eggs with "something". The very first thing I was going to miss when I decided to go vegan was my breakfast omelets. Soon enough I found a great solution… it's yellow, oily and I can add almost anything to it. Its not exactly the same as an omelet but it answers to the same craving. I actually think it taste much better than eggs omelette (you know… the one that comes out of the chicken's butt)
The main ingredient in the basic vegan omelette recipe is the Garbanzo Bean (chickpea) flour, which is a great source of protein. I make the omelet when I don't have the time, but the addition of vegetables and herbs upgrades this recipe into a delicious Frittata. Unlike the omelet, the Frittata is thick and it needs to be finished baking in the oven.
In this recipe, the addition of polenta ground corn really makes the Frittata much more gentle and adds some sweetness and texture.
Here I made it with my favorite toppings: mushrooms and herbs.
Ingredients
1 cup Garbanzo Bean (chickpea) Flour
¾ Cup of Organic Polenta (milled corn-not corn grits)
¼ tsp Baking Soda
1 Tbsp Adobo Spice Mixture (or any spice mixture of your choice)
1 tsp Sea Salt
1 tsp Fresh Oregano
1 tsp Fresh Thyme
Any other herbs you like
1 ½ Cups of Water
3 Tbsp Olive Oil
1 ½ Cup Chopped and Washed Leeks Stalk (mostly the white parts)
1 Pack of  Button White Mushrooms
1 Pack Shitake Mushrooms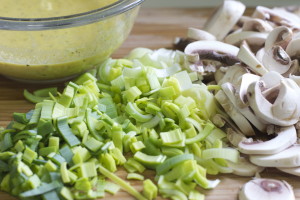 Preparation
Pre-heat oven to 375˚.
1. In a bowl mix the flour, polenta, baking soda, herbs and spices with the water. Mix well with a fork so there are no clumps and set aside. If you need more water add a little bit at a time until it looks like a thin pancake batter.
2. Sauté the leaks and the mushrooms in olive oil for a few minutes in a pan until soft.
(The amount of oil may seem like a lot, but remember that we're not using eggs, which contain fat, so you might even have to add more oil. Don't worry, the Frittata won't come out greasy anyway.)
3. Add the batter to the pan and cook on medium-low heat for at least ten minutes. Make sure the batter is evenly spread out so you won't have undercooked parts.
4. Finish up baking in the oven for 5-7 minutes or until the top is golden brown.
Serve with salad and enjoy!