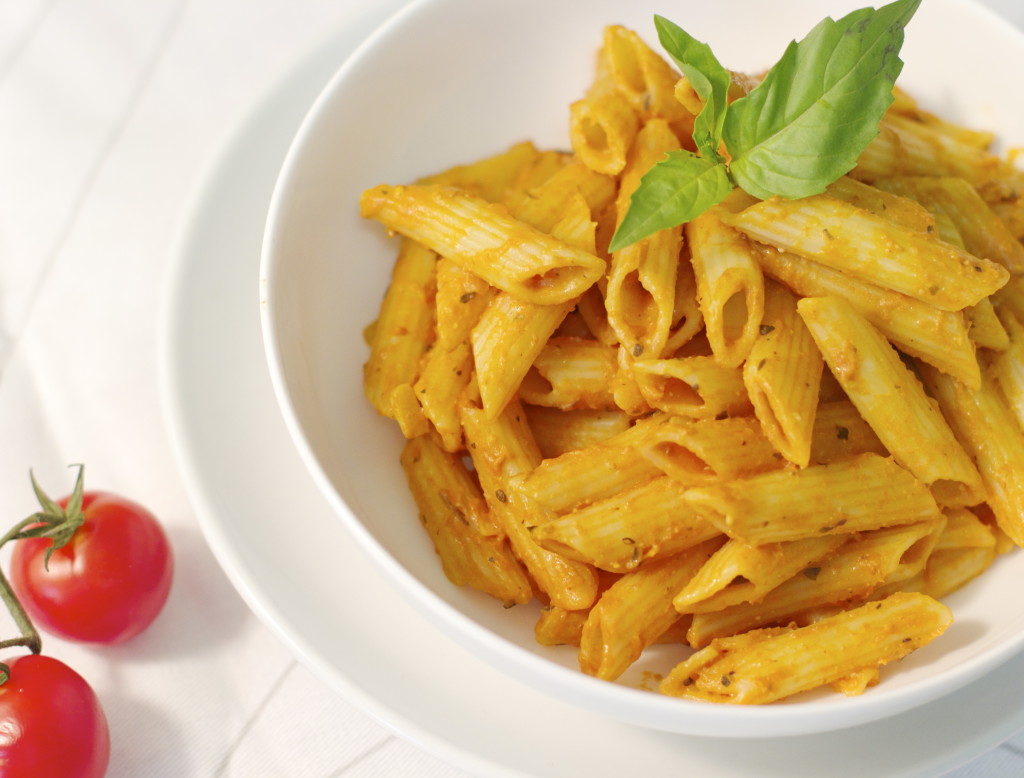 Traditionally, Penne Alla-Vodka has a pink creamy sauce. What gives the sauce its pink color is the tomato sauce mixed with heavy cream. These days, "Heavy cream" means something else for me. It means heavy cow's udders, udders that will never comfort and nourish a baby cow because in the dairy industry cows are separated from their babies right after birth and the calfs are thrown into a small cage the size of their body. The mother cows are then "milked" by painful machines, so humans could steal their milk and drink it in their coffee or make heavy creams. Sad but true, I know it doesn't have to be like that. We can have delicious nutritious food without it.
If you feel like you need a drink now… I've got your fix… how about Cherry Vodka? Well, not really for getting drunk but more for depth of flavors, most of the alcohol evaporates during cooking anyway, so don't worry! it's Ok to give it to the kids, worse case scenario they'll go to sleep early. Just kidding,  just kidding…  (;
The 'Cherry' part in the Penne Alla 'Cherry Vodka' was an honest mistake which turned out to be a good mistake. I opened the freezer, picked up the bottle of Vodka without looking at it too much. Later I remembered that alcohol is not always vegan, I ran back into the kitchen to check and only then I realized it was a Cherry Vodka. Oh well, too late, it was already in the pan making friends with tomatoes and cashews. Also, technically tomatoes and cherries are both fruits right? so why not?  it works for me… I was happy to find out that it was indeed a vegan Vodka, which made it even more tastier now 🙂 If you want to find out if an alcohol beverage is vegan, you can check it on this site: http://www.barnivore.com
For the Heavy Happy cream I used cashew butter mixed in with unsweetened soy milk, If you can't find cashew butter it's easy to make a simple cashew cream/"milk"  from scratch. (see below)
Ingredients
1 Pack Penne Pasta (about 16 oz.)
2 Cups Crushed Tomatoes (I used San Marzano 28 oz. can)
1 Tbsp. Tomato Paste
4 Tbsp. Cashew Butter (Or ¼ Cup raw cashews: see below)
1 Cup Unsweetened Soy Milk
3-5 Cloves Garlic
2 Tbsp. Cherry Vodka
1 tsp Oil
1 tsp. Dried Basil
Salt & pepper to taste
Preparation
Cook the pasta in salted boiling water according to the directions on the package, (about 9 minutes to get it 'Al-Dente') Drain and set aside (do not wash the pasta!)
In a saucepan add the garlic and oil, sauté for 2 minutes.
Add the crushed tomatoes, tomato paste, cashew butter, soy milk, cherry Vodka, basil, salt and pepper.
Stir in more water or soy milk if it's too thick.
Cook for about 15 minutes and pour over the pasta to serve.
If you prefer to make the cashew cream from scratch:
Soak ¼ Cup raw cashews for 2-4 hours in water. Wash and drain. In a high-speed blender, place the cashews and ¾ Cup of soy milk or water and blend until creamy, add into the tomato sauce. (Instead of the cashew butter and soy milk).