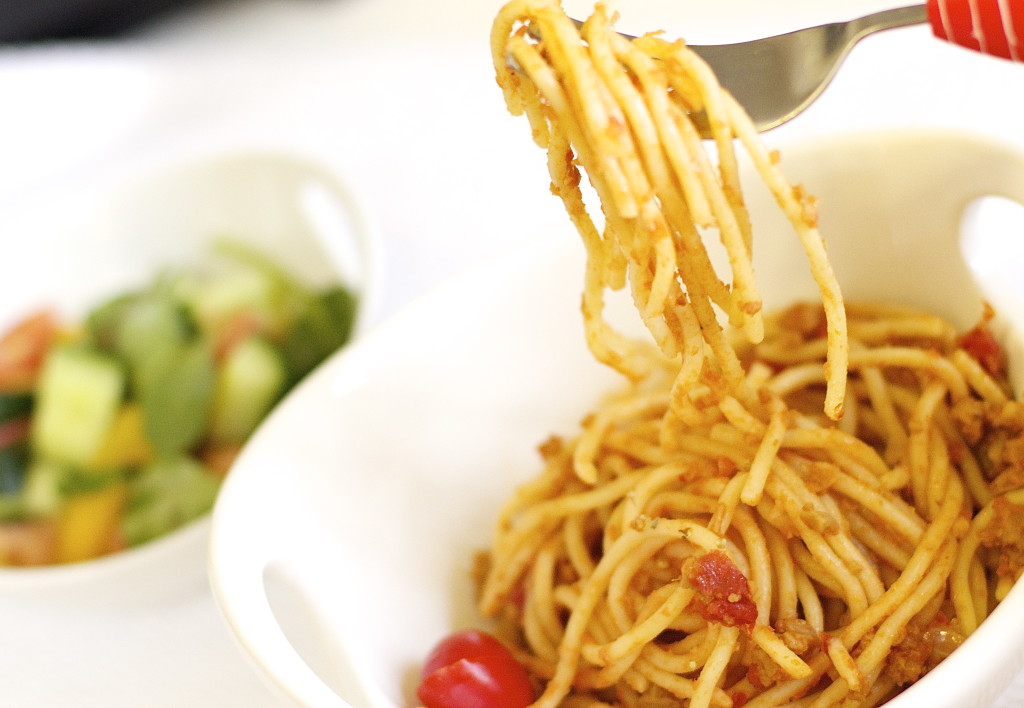 There are many kinds of meat substitutes and alternatives. The most common one is Seitan, which is a wheat protein and is the most versatile in its ability to "mock" meat.  It comes in many textures and shapes. The Seitan that looks like ground meat is the easiest type to start with if you want to experiment. It is the closest in texture to ground meat.
I've found that there's an assumption that meat "substitutes" taste like cardboard… but just like animal flesh doesn't taste good by itself and needs to be flavored with spices and herbs (which come from plants), so does Saiten "meat". Plus, I'd rather eat cardboard that tastes good and not eat the crushed body parts of a miserable dead cow.
If you haven't noticed by now, I have a tendency to hide healthy ingredients in my daughter's food. The "hidden treasure" in this recipe is the mashed acorn squash in the "Bolognese" sauce.  When I made this dish for my daughter's playdate guests it was a delicious  success! The acorn adds sweetness, blends in perfectly in the sauce and the young vegetable detectives did not catch it. 😉
If you want to learn more about how to start and substitute, watch Colleen Patrick-Goudreau in her funny innovative lecture,
Ingredients
1 pack Spaghetti Pasta
1 medium Onion chopped
3 cloves Garlic minced
1 ripe Tomato
1 can crushed tomatoes
1/2 cup Vegetable Broth
2 packages Seitan (Cubed and Ground, I chopped them both more finely than packaged)
1/2 roasted mashed Acorn Squash (I used the other half from yesterday when I made this Red Lentil Patties recipe; you can use other mashed pumpkin or carrots, or anything that can add sweetness and can "disappear" in the red sauce).
3 Tbsp. Tomato Paste
1 Tbsp. Soy sauce
1 Tbsp. Brown Sugar (Optional)
1 tsp. Adobo Spice Mix (optional,  I stick this stuff everywhere but you dont have to, just season as you like)
Sea Salt
1/2 tsp. Paprika
Olive Oil
Preparation
Cook the pasta according to package instructions, it's important to salt the water. Drain the pasta and set aside until sauce is ready.
Start sautéing the onion and garlic in olive oil, add the ground Seitan. Stir occasionally for a few minutes until golden brown.
Add the tomato paste, crushed tomatoes, chopped tomato, the mashed squash, brown sugar and spices. Cook until everything blends well. Add the vegetable broth to "open" the sauce. let it simmer for a few m ore minutes until it all comes together and the sauce has a nice color and you like the consistency.
Pour the sauce over the pasta and mix well let it soak in the sauce for a few minutes before serving.