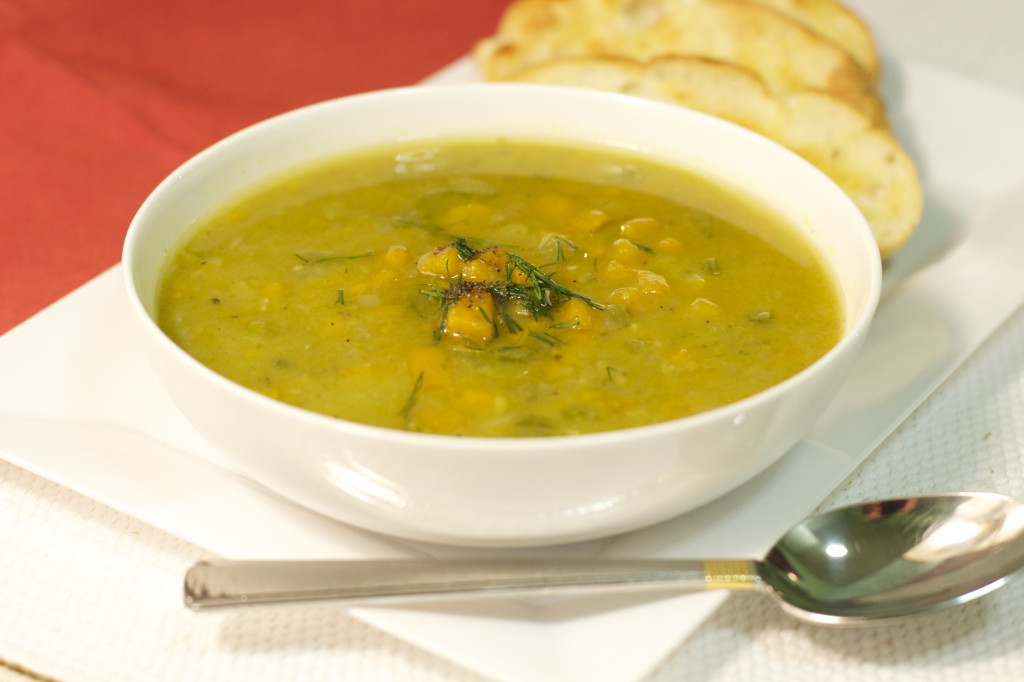 This recipe is a "Phone recipe" I got from my mom. It's the kind you don't get with accurate measures. "Add a little bit of this, a bunch of that and cook until it's ready"… which is fine here, there is room for adjustments anyway. You can play with the spices, the amount of liquid and the vegetables and it will still be delicious!
As a child, I did not appreciate it as much but now even the smell of it reminds me of Home Sweet Pea Home. It's so interesting how senses like smell and taste are connected to memories. Winter, coming home from school straight to the kitchen table… that is my childhood pea soup memory. Plus, my hubby said it's the best soup he ever tasted, but then again, he says that about everything I cook 😉
The soup tends to get very thick when it gets cold, so just add water and it's good for the next day too.
Ingredients
2 Cups Dry Green Split Peas
1 Sweet Potato/Yam Peeled and Chopped into small cubes
4-5 Stalks of Celery, Chopped
1 Onion, Chopped  (I used a few sweet and mild Cipollini small flat onions but any Onion will do)
2 Cups Vegetable Broth
4-6 Cups of Water
2 Tbsp Oil (Olive Oil Or Coconut Oil)
1 tsp. Sea Salt
1 tsp. Adobo Spice Mix
1/2 tsp. Cumin
Black Pepper (the more the better for me…)
Chopped Dill (Optional)
Preparation
Soak the peas for 2-3 hrs. or more (the more soaking time the less cooking time).
In a large pot, Sauté the onion in oil.
Stir in the sweet potato and celery for a few minutes.
Rinse and drain the split peas and add them to the pot.
Add the Vegetable broth and water, bring to a boil and lower to simmer for 1 1/2 hr. until the peas are "melting".
Add the salt and spices towards the end.
Serve with croutons and sprinkle chopped dill on top.