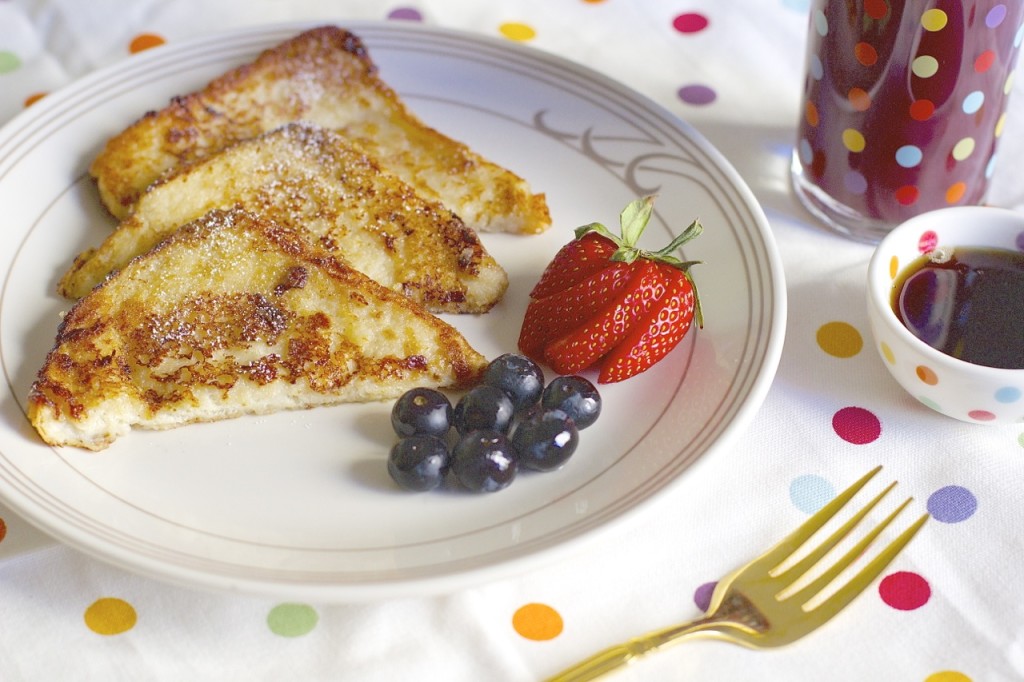 Since I became a mom, every weekend breakfast is special. There is more time to make it and its the only breakfast we have together as a family. When I was a child, my father was in charge of breakfast on weekends. We used to wait for his "Bird in the nest" toasted sandwich quietly so to let mom sleep till late. In my case, there are no more birds, no nests and my hubby's cooking expertise includes only one thing: Popcorn. and even than, when he makes it, the kitchen looks like a war zone… Hey, but no complaints here! he makes the best popcorn ever! ;).
One of my daughter's favorite weekend breakfast is a french toast, especially if she can help. If you have kids, It's great to get them involved in the kitchen. I find that my picky eater is more likely to eat something we make together.
I like to use good quality bread. Spelt bread has a more gentle and pleasant taste than regular wheat bread in my opinion, the idea is you can use any bread and it doesn't have to be fresh.
In this recipe I used banana as a binding agent (instead of eggs) and of course for taste.
Ingredients
1 Ripe Banana
1 Cup Vanilla Almond Milk (or Soy Milk)
2 Tbsp Sugar
1 Tbsp Shredded Dry Coconut
1 tsp Vanilla Extract
1/8 tsp Baking Soda
Pinch of Cinnamon
Pinch of Salt
6-8 Slices of Bread
Coconut Oil for frying
Maple Syrup for serving

Preparation
In a blender, blend the banana, almond milk, sugar, coconut, vanilla extract, baking soda, cinnamon and salt until thick and smooth. transfer the batter into a shallow dish.
Dip the bread into batter so it is fully coated.
Use coconut oil generously and fry lightly in a non-stick pan on medium heat until brown on both sides. When you flip the toast, make sure to scrape carefully so the batter doesn't stick to the pan.
Serve with your favorite seasonal fruit and maple syrup on the side.
Optional: sprinkle with cinnamon and confectioners' sugar.
Yumm!