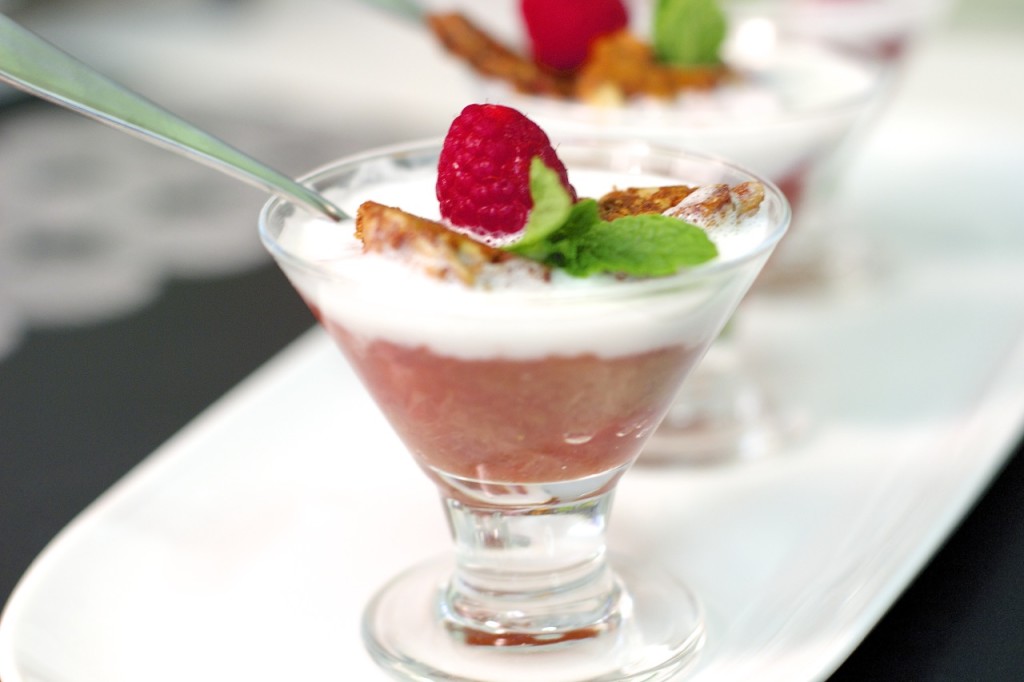 If you have a dinner party and want to impress your guests, this is a recipe to go with. It is a real party of flavors, textures and colors. Creamy and crunchy, sweet and tart all in one individual treat with presentation so beautiful it will look like you cheated and ordered from a five star restaurant. 😉
It has three steps and it is really not hard to make. Now you may ask what is a rhubarb?! Thats what I said when I first saw it, It looks like a red celery stalk but is tart in flavor and is super nutritious. It pairs perfectly with the strawberries and cream in this recipe.
*Use only the rhubarb stalk, not the leaves!
*It's important to refrigerate a can of full fat Coconut Milk (not the light one) beforehand.

Ingredients
1 Cup Fresh Berries of your choice, to top the dessert (I used raspberries)
Compote:
2 Cups Rhubarb
2 Cups Sliced Strawberries
½ Cup Maple Syrup + 2 Tbs
1 tsp Vanilla
1 tsp Lemon Juice
Lemon Zest
Coconut Cream:
1 Can of Full Fat Coconut milk (keep cold in fridge)
3 tsp Powdered Sugar
½ tsp Vanilla Extract
Granola Crunch:
1 ¼ Cup Chopped Pecans
1 Cup Rolled Oats
1 Cup Quinoa Flour (you can use any flour)
½ Cup Sunflower Seeds
¹⁄3 Cup Maple Syrup
¼ Cup Coconut Oil
½ tsp Vanilla Extract
½ tsp Cinnamon
¼ tsp Salt
Mint and fruit for garnish. I used raspberry.
Preparation
For the compote:
Preheat oven 400º F
Cut the rhubarb into ½ inch pieces
Combine with the maple syrup. Bake for 10-15 minutes on a cookie sheet covered with parchment paper.
Transfer the baked maple-coated rhubarb to a small pot.
Add vanilla and more maple syrup (2 Tbs).
Add the lemon juice and zest.
Bring to a boil but watch it carefully so it doesn't burn, cook on medium-high heat for 2-3 minutes more.
Turn off the fire and add the strawberries.
Set aside to cool and start the coconut cream.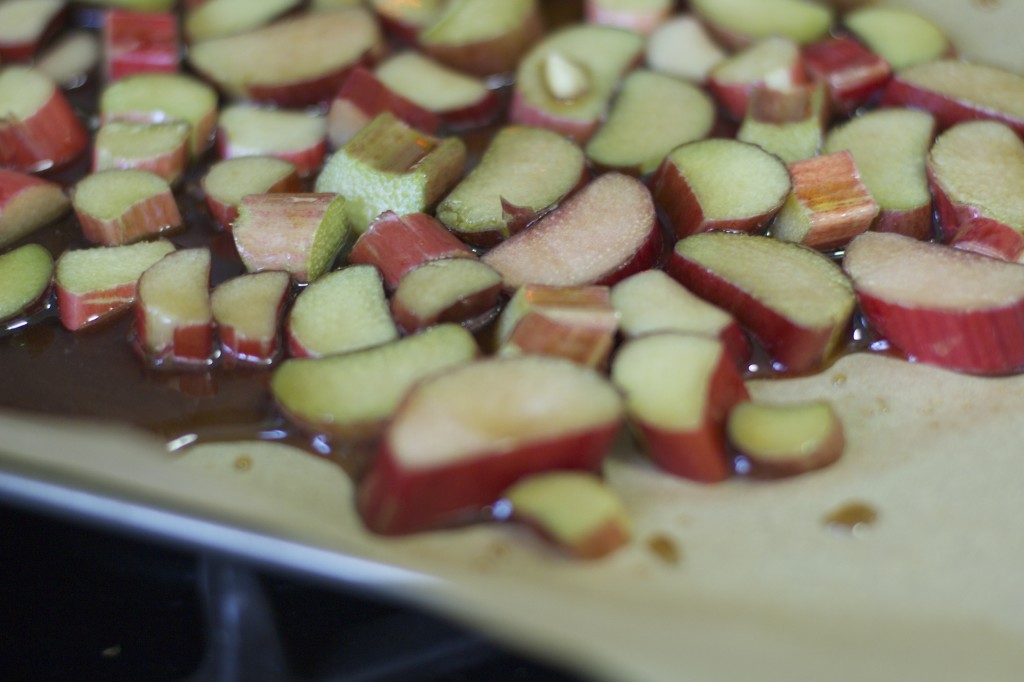 Granola Crunch:
Lower the oven to 350º F
Mix the ingredients together in a medium bowl.
Spread on a cookie sheet and bake for 20-30 minutes until golden brown and crisp.
Let cool down and break into individual pieces.
Try not to eat it all before the dessert is ready to serve!
The Coconut Cream:
Coconut is one of  the greatest ingredients. It's nature's source for oil, butter, milk and cream (without stealing milk from baby cows and without the hormones and antibiotics thank you!).
Coconut cream is the ultimate replacement for heavy cream. Plus it's much more tasty in my opinion!
This cream is versatile. I use it in savory dishes, like curry or asian dishes and in sweet desserts.
Flip the chilled can of Coconut Milk upside down, open it and pour out the liquid.
Scoop out the cream into a mixing bowl and whip with a hand mixer.
Add the powdered sugar and vanilla gradually until fluffy .
Here is a helpful link on: How to make the whipped coconut cream.
To serve:
Scoop the compote mixture into a dessert glass. Layer with coconut cream. Stand the granola crunch on top. Garnish with fruit and mint leaves.