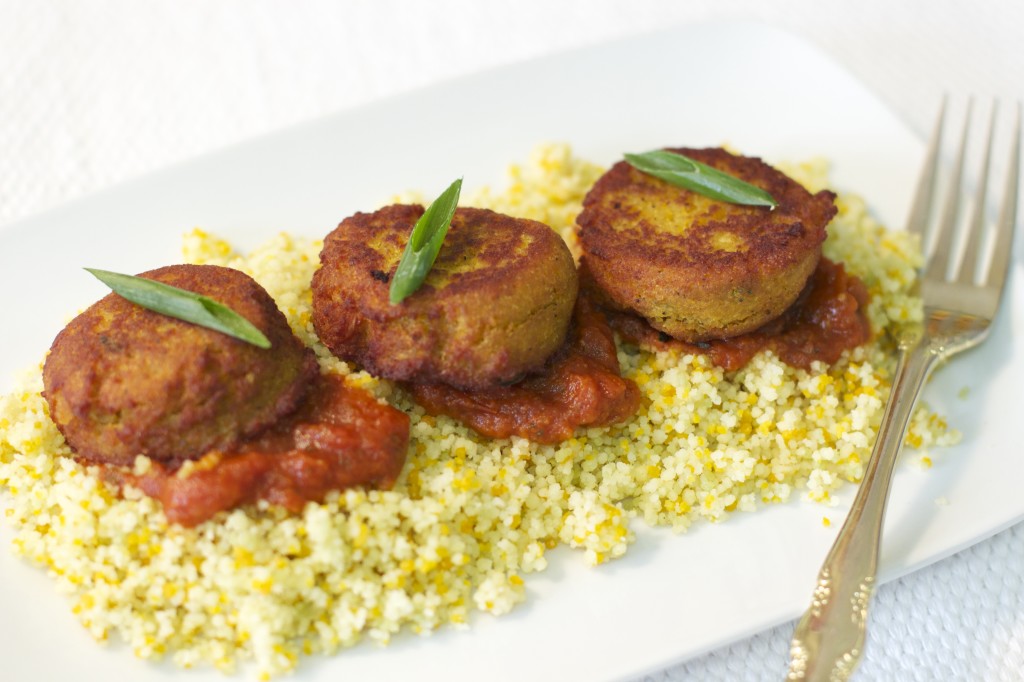 I made these patties in a few different versions before. I learned that a great way to experiment with making patties or veggie balls, is to use dry uncooked and soaked legumes as a base ingredient. Add vegetables, herbs and spices and the options are limitless! The fun fact is:, Legumes, due to their high content of starch (that's the white stuff you see in the soaking water) act like a "glue" so there is no need for eggs. How simple and cool is that?! Actually, Falafel balls are made with the same principle, dry uncooked and soaked chic-peas or Fava beans mixed with spices and herbs and then fried.
In this recipe I used the beautiful Acorn squash with the red/orange lentils and made it ready for fall…  I served it with tri-color couscous and simple tomato sauce but It's great in a sandwich too. So lets get to work! start soaking your lents…
Ingredients
1¼ Cup Red Lentils, Soaked in water for about 3 to 4 hours
1/2 Acorn Squash
1 Small Onion
1/2 Cup Bread Crumbs
1 tsp. Fresh Thyme leaves
1 tsp. Salt
1 tsp Cumin
1 tsp. Turmeric
1 tsp. Paprika
1/2 tsp. Dry Ginger powder
1/2 tsp Black pepper
1 Tbsp. Maple Syrup
Oil for Frying
Preparation
Preheat oven to 400º
Cut the acorn squash in half, scoop out the seeds, brush with olive oil, maple syrup and sprinkle with sea salt (I used only one half of the squash, the other half I used for another recipe).
Roast in the oven for 45 minutes to an hour until soft. Set aside to cool. After the acorn squash has cooled, scoop the "flesh" from its inside, do not use the skin.
Rinse and strain the lentils and chop the onion.
Place the mashed acorn squash, the lentils and the onion in a food processor and blend.
In a mixing bowl, add the mixture, the bread crumbs and the spices.
Heat up the oil in a frying pan. Use an ice-cream scooper to form balls, place it in the pan and flatten a little to look like patties. Fry on medium heat for 2-3 minutes on each side.
• Always fry one pattie first to test the flavoring. If more spices are needed, add it to the mixture before frying the whole batch.
• If the mixture is too soft for the ice cream scooper to pick up, add more bread crumbs.
• If you prefer, you can bake them in the oven, it comes out just as tasty. Just brush them with oil before baking.