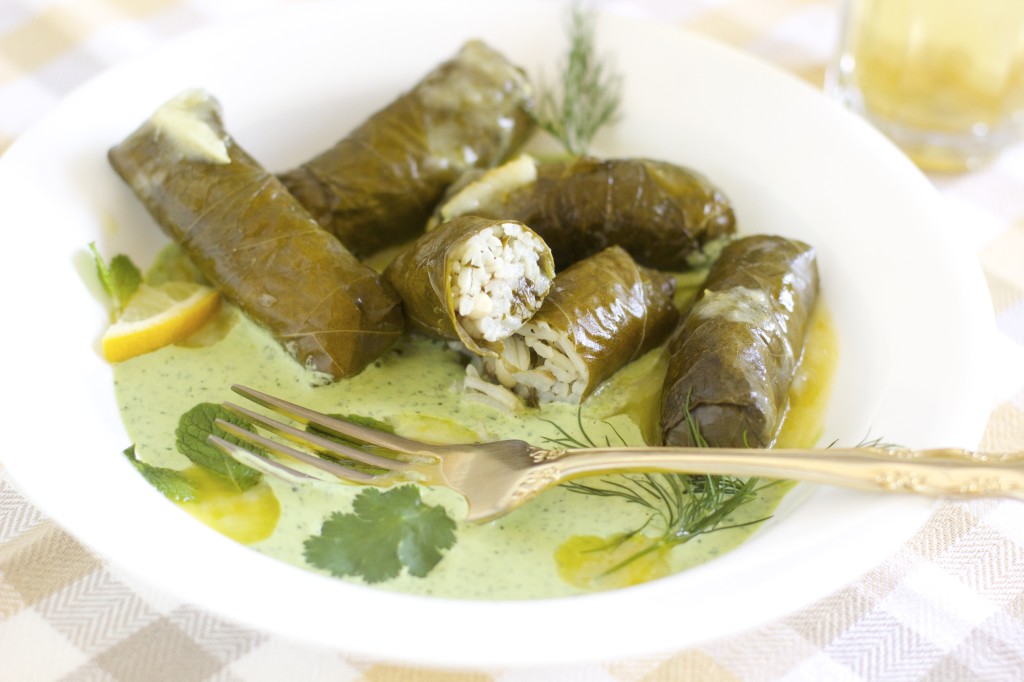 Stuffed grape leaves or as they are  traditionally called, 'Dolmas', always seem like a holiday party food to me. Something that aunts and grandmas prepare in groups while gossiping in some far away village a long, long time ago. I wanted to try and make them to see if I could roll food that looks like cigars… I also like the surprise factor of when you cut open a roll or a stuffed vegetable and discover the filling inside, so I decided to take on the challenge.
I looked for recipes and inspiration and finally made a combination of cooked traditional recipes and the raw version made by my favorite raw food restaurant in NYC, Pure Food and Wine. Their idea of adding preserved lemon oil and cilantro tahini sauce is so refreshing and makes a beautiful presentation! I found it therapeutic to do the work of stuffing and rolling the leaves. It takes time and some practice, but don't  you worry …Watch a few Youtube videos  and you, too, will roll it like a pro. 🙂
Ingredients
1 Jar of Grape Leaves (I used 2/3 of a 16 oz. Jar) about 35-40 leaves
1 Cup Rice
1 Cup Water
1 Medium Onion , Chopped
1/3 Cup Pine Nuts
Salt & Black Pepper
Handful one of each:
Chopped Mint
Chopped Dill
Chopped Cilantro (+ one more Cup for the Tahini Sauce)
Lemon Zest
Olive Oil
Tahini Sauce:
1/2 Cup Tahini
3/4 Cup Water
1-2 Cloves Garlic
1/4 Cup Fresh Lemon Juice
1 Cup Cilantro, Chopped
1 tsp. Salt
Preserved Lemon Oil:
1/4 Cup Preserved Lemons
1/4 Cup Olive Oil
Preparation
Sauté the onion in olive oil until golden brown.
Add the rice, pine nuts, salt, pepper and water. Cover and let simmer, lower the heat and 'half-cook' the rice for only 10 minutes and let it cool.
Add the chopped greens (dill, mint and cilantro) and lemon zest into the rice mixture, add salt and pepper and adjust it to your liking.
Open the leaves very carefully in a bowl with water (they come rolled together very tightly in the jar).
Cut the stem off each leaf and stretch it on a flat surface. Be careful not to tear. Lay the vain side up so it will be the inside and the smooth side would be on the outside.
Take a small amount of the filling (see picture), about 1 1/2 tablespoon and place it on the center -bottom of the leaf.
Start rolling and folding the bottom, then the sides and roll into a cigar shape.
Place a few unstuffed leaves (the ripped ones) on to the bottom of a pot with a little bit of water, lemon and olive oil mixture (about a cup, just to cover the bottom of the pot)
Pile up the stuffed grape leaves very tightly so they're not going to open during cooking — I had 2 layers. (Some recipes call for placing a plate on top of the layers to keep them tight during cooking.)
Cook for 20-30 minutes covered on low heat until the rice is completely cooked and all the flavors blend together.
Make the Cilantro Tahini sauce:
Blend the tahini, water, lemon, garlic, cilantro, salt and pepper in a food processor
Make the preserved lemon dressing in a blender, blend the preserved lemons and olive oil until smooth.
To serve:
Place the cilantro tahini sauce on a plate, a few stuffed grape leaves on top and drizzle the preserved lemon sauce on top and some more of the chopped herbs.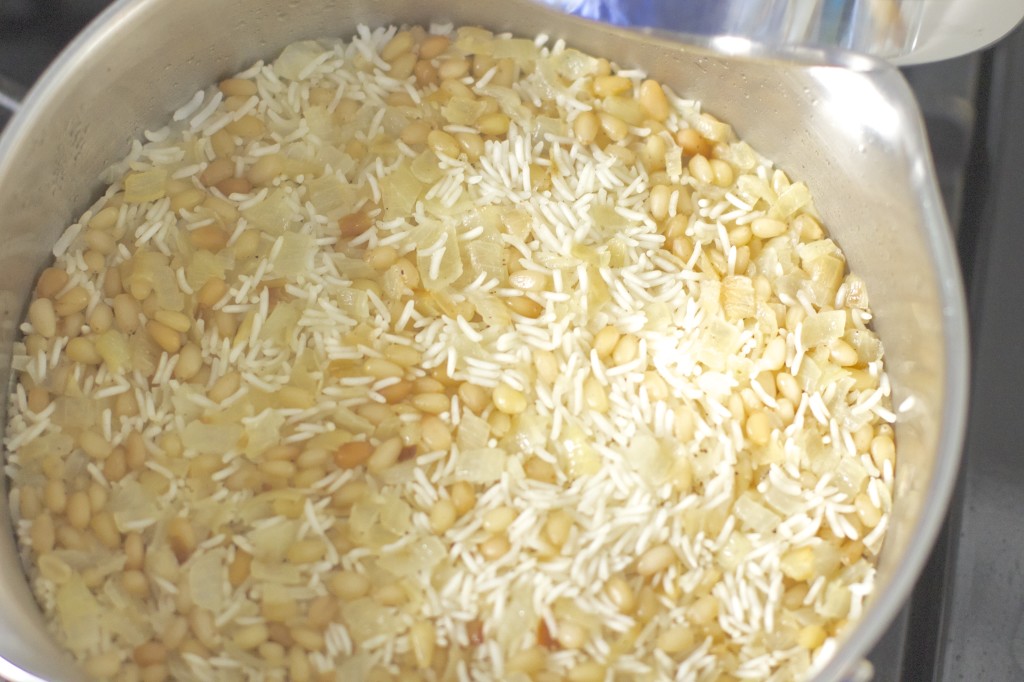 "Half cook" the rice